Clinical Pilates Reformer multi equipment classes in Sale, Cheshire
Clinical Pilates Reformer multi equipment is the ideal place to focus on the six basic Pilates principles and get the basic fundamentals and understand firing patterns of the body.
It will familiarise the client with the Pilates reformer equipment and will establish good motor skills giving you strength and confidence to move to higher classes in the future. You will learn to use a natural breath pattern which promotes a less fight or flight effect on the body. You will use both the reformer and the tower and the arc barrels in these classes at Sale. Our Pilates Reformer classes are unique in that we have the added STOTT V2 Max tower and arc barrels. This ensures that clients move multi plane and multi directional keeping it functional for every day life. Core strength and too stability are key. Watch a class below
Core Reformer multi equipment – A flowing class, Reformer and tower work targets your muscles in multi plane dynamic movement sequences. Exercises are more physically demanding with a focus on building strength, challenging co-ordination and endurance while also creating a long, strong "Pilates" body. While more challenging our teachers are experienced and will offer variations within the class to make things easier or more challenging depending on personal requirements.
Mobility Reformer multi equipment – This class focuses on mobility, agility, strength and performance. Utilizing the moving platform with the tower , this course is designed for those who have a basic knowledge of the V2Max Reformer . Movement start as isolation and regression and then increase using more fascial lines and planes three dimensionally.
"As a Crossfitter of a certain "age", I have found that mobility and agility are just as important to me now as strength and cardio ability. Having been recommended Pilates Manchester in Sale, I thought I'd give it a try to address some pretty specific mobility issues that are preventing me in some of positions in Crossfit. After only a few sessions I have now started to see a massive improvement in my mobility, it even surprised me how quickly I started to see the benefits. As for the coaches Stacey, Marketa and Nisha can't rate them highly enough. They quickly understood why I wanted to do Pilates and have tailored my sessions to match my goals and where I struggle they find alternative movements to assist my progress. Pilates Manchester is a great place, friendly and very welcoming." – Steve Mills, Macclesfield
The Six Pilates Method Principles for Pilates Reformer equipment classes: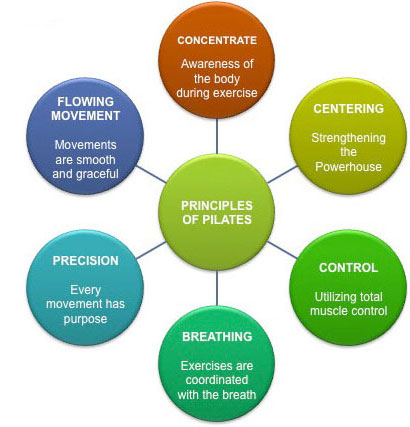 Centering, Control, Flow, Breath, Precision, and Concentration.
These six Pilates principles are essential ingredients in a high quality Pilates method workout. The Pilates method has always emphasized quality over quantity, and you will find that, unlike many systems of exercise, Pilates exercises do not include a lot of repetitions for each move. Instead, doing each exercise fully, with precision, yields significant results in a shorter time than one would ever imagine.
Pilates is a Unique Method of Exercise
Core strength and torso stability are key Pilates method benefits, along with the six Pilates principles, they set the Pilates method apart from many other types of exercise. Weight lifting for example, can put a lot of attention on arm or leg strength without attending much to the fact that those parts are connected to the rest of the body! Even running or swimming can seem like all arms and legs, with either a floppy or overly tense core. Ultimately those who really succeed at their sport learn to use their core muscles, but in Pilates this integrative approach is learned from the beginning.