Pilates Holidays and Yoga Retreats to the Lake District
Friday 23rd October 6pm – Sunday 25th October 4pm 2015 , £250 per person based on two sharing
I am pleased to announce a great opportunity for you to relax and take your Yoga/ Pilates practice deeper in the beautiful surroundings of the Lake District. The yoga weekend will take place at www.haybergill.co.uk, situated in 3 acres of woodland in the picturesque Upper Eden valley in Cumbria.

There will be a chance to practice a Dynamic Yoga/ Pilates flowing practice in the morning and a more passive, Restorative Yin practice in the evening with relaxing body scan meditation sessions. Classes take place in the purpose built studio overlooking picturesque gardens.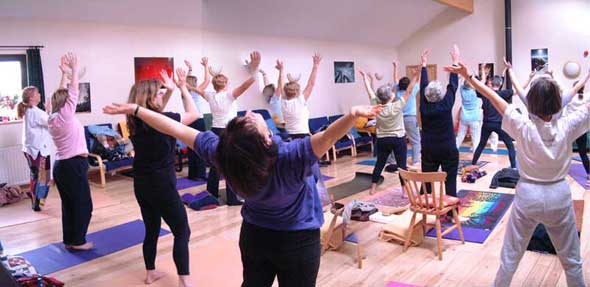 Those who wish can also take advantage of a relaxing massage treatment or experience a chance to unwind in the sauna. (NB: Treatments & sauna are not included in the price)

Explore the beautiful Upper Eden Valley, with plenty of walks available.
The price includes:
All meals, which are vegetarian and freshly prepared using local produce where possible. Warm and comfortable accommodation on a twin shared basis.
Yoga tuition:
Price: £250. A non-refundable deposit of £150 is required to secure a place. Places are limited so please book early. The remainder is due no later than 6 weeks before the start of the retreat. Please fill in the booking form and payment can be made via BACS, PayPal or Cheque.
Sample Time Table 
Friday
6pm – Arrival and settle into rooms
7pm – Dinner
8:30pm – 10:00pm – Gentle Yoga/ Pilates Flow including relaxation and meditation
Saturday
8:30am – 10:30am – Vinyasa Yoga/ Pilates flow
11:00am – Brunch
12:30pm – Nordic Walk to Appleby Village
6:00pm – Dinner
7:30pm – 9:30pm – Thai Yoga Massage and Yin Practice
Sunday 
8:30 am – 10:30am – Fusion Garuda Yoga/ Pilates Flow
11:00am – Brunch
12:00pm – 3:00pm – free time for Massage
2:30pm – 3:30pm – Farewell Yoga/ Pilates Gentle relaxation and meditation
Haybergill, Appleby in Cumbria
Friday 23rd October 6pm – Sunday 25th October 4pm 2015
Email Nisha for booking form: info@pilatesmanchester.com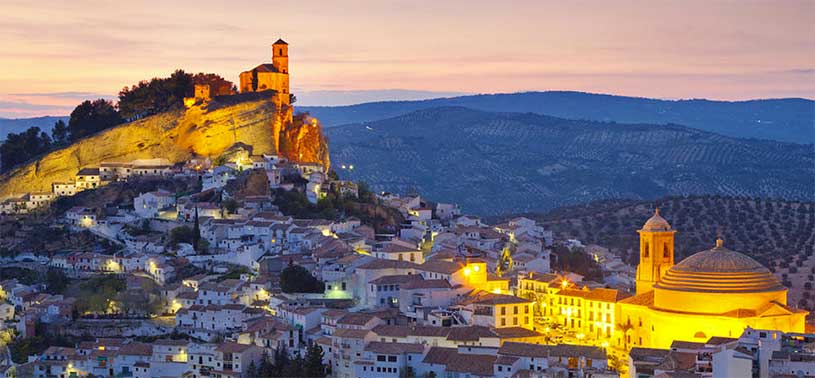 Pilates & Yoga Rustic Hacienda Retreat
Hacienda, Granada, Spain
Friday 29th April -Monday 2nd May 2016 , £299 per person based on two sharing
£299 per person twin sharing (Bank Holiday) – Deposit payable of £150
Arrival Saturday morning – Depart Sunday evening
Join us for 4 days of Pilates, Yoga and Buddhist walking at 'The Hacienda'. 
Set in the beautiful Andalucian countryside, in an area of outstanding national beauty and ecological diversity, this retreat offers a complete getaway from everyday life.
Accommodation is set amidst spectacular views of the Andalucian countryside, in an area of outstanding national beauty and ecological diversity.
Facilities include:
Indoor and outdoor yoga areas

Meditation temple with prayer chairs

A purpose built Yoga studio

Infinity pool with two cabanas

Indoor sauna

Shiatsu Massage can be booked through The Hacienda upon arrival & costs 65 Euros an hour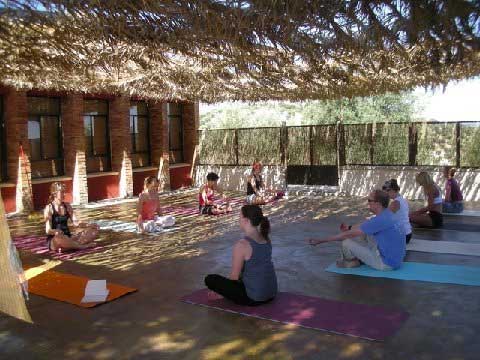 The venue makes an excellent base for exploring Monterfrio in a tranquil, stress-free environment. When you're enjoying a Pilates/Yoga holiday mini break, our stunning venue will help you unwind and rejuvenate. You will be served delicious vegetarian food, twin en-suite bedrooms with panoramic views of the mountains.
Teaching sessions are held in the spacious Yoga hall, Yoga deck and meditation temple. The Pilates/Yoga classes are a combination of energizing Dynamic Yoga and Pilates in the morning followed by a more restorative practice of Thai Yoga Massage. Classes are suitable for all levels and those with little or no experience in yoga and/or Pilates are also welcome.
Sample Timetable
Friday
Early morning flights from Manchester
11am-1pm – Arrival & brunch
7.00pm – Dinner
9.00-10.30pm – Yoga/Pilates Flows by Candlelight
Saturday
8.00-10.00am – Fusion flow Garuda class including morning meditation
 
10.15am-Brunch Free Time – For Massage, walks, bike ride etc.
 
4.00pm-Chai & tiffin
 
5.00-7.00pm Thai Yoga Massage class
 
7.00pm-Dinner
 
9.30pm – Yin Yoga Nidra, Pranayama, Meditation
Sunday
8.00-10.00am -Fusion flow Yoga/Pilates class including morning meditation
 
10.15am-Brunch Free Time – For Massage, walks, bike ride etc. optional visit to Monteria
 
6.00pm-Dinner
 
9.30pm Yin Yoga Nidra,Pranayam,Meditation
Monday
8.00-10.00am- Power Pilates/Yoga Baptiste style
 
10.15 am – Brunch Free Time – For massage, walks, bike ride etc
 
1.00-3.00pm Buddhist walking, meditation, Pranayama
 
4.00pm – early Dinner
 
5.00pm onwards Departure
What to bring
Light, loose clothing for Yoga

Walking clothes & shoes

Swimming costume

Yoga mats & props provided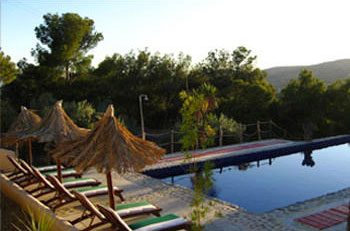 Things to do
Situated 8km from The Hacienda – Monte Frio was officially declared a Town of Historical and Artistic Interest in 1982 and forms part of the Poniente Granadino – The Last Frontier of Al-Andalusia. The town sits at just over 830m above sea level in a landscape made up of mountainous slopes and olive groves with a skyline dominated by the monumental El Centinela.
Further information
Deposit is £150.
Full payment is for a sharing twin room. Some rooms have an en suite bathroom and these rooms are booked on a first come first served basis.
If paying a deposit the balance can be paid eight weeks before the retreat commences.
We do have a limited number of single occupancy rooms at extra cost. Please contact us for details and availability.
Flight, insurance, additional activities and excursions are not included.
Travel insurance is required.
Transfer cost of your transfer from Malaga airport to The Hacienda is £25 each way. There are set times that the transfers are available so please check with us before booking your flight.
Please contact regarding our payment plan and to check availability before booking online.
What is included in the cost?
All classes, accommodation, meals, snacks and fresh fruit and herbal teas are included in the cost. Flights and transfers are not included.
Where shall I fly?
Malaga. Easyjet, Ryanair, Monarch and Norwegian run cheap flights from the UK. For cheaper rates check www.skyscanner.net.
Transfers from the airport?
We will be arranging a transfer to The Hacienda around 2pm on the first day of the retreat from Malaga airport. For your departure, please organize flights from 10pm on the last day of the retreat. The transfer costs £25pp each way. It is possible to get flights at different times to those advised and get a taxi to the venue. However please be aware that taxis in the area are costly and one to the venue from the airport will cost 130 Euros.

"A retreat that was so jam packed with Nisha's ever creative and challenging classes, Nordic walking and belt busting meals we did not even realise it was raining".
"Nisha organized a wonderful yoga retreat with a great variety of yoga, Pilates and meditation designed to rejuvenate and relax. The level of knowledge, experience and teaching was first class. The retreat offered the perfect balance of yoga and free time and was great value for money".